Downloads
Tools
Intel FPO Decoder
It decodes the FPO number of Intel processors and therefore shows you the manufacturing date, week, year and the location - where it was manufactured.
CPU MUSEUM Intel FPO Decoder V1
Please note that .NET Framework 2.0 or higher is required to run this program.
idecode.zip
Compressed Archive in ZIP Format
80.3 KB
Wallpaper & Graphics
CPU MUSEUM Header
Advertise For The Museum!
Use this banner to advertise for the CPU MUSEUM!

The Intel Pentium Wallpaper
How many different Pentiums can you see?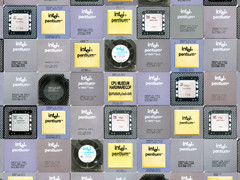 AMD-volutionary Wallpaper
AMD's heyday: Thunderbird - Brisbane
Literature
Intel Modern CPU Manufacturing Process Line
I created this when I was 15 ;)