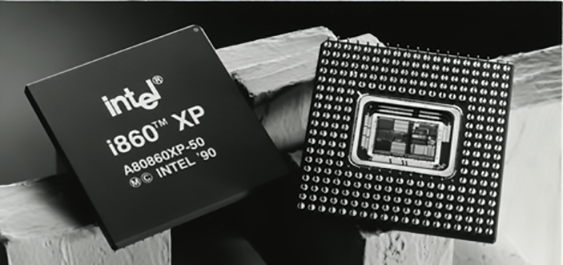 The Intel i860 was a RISC microprocessor design introduced by Intel in 1989. It was one of Intel's first attempts at an entirely new, high-end instruction set architecture since the failed Intel i432 from the 1980s. It was released with considerable fanfare, slightly obscuring the earlier Intel i960, which was successful in some niches of embedded systems, and which many considered to be a better design. The i860 never achieved commercial success and the project was terminated in the mid-1990s.
The 80860 XR
The first implementation of the i860 architecture was the i860 XR microprocessor (code named N10), which ran at 25, 33, or 40 MHz.
Intel i860 XR 40 MHz
A80860XR-40
Specification Details
Show
The 80860 XP
The second-generation i860 XP microprocessor (code named N11) added 4 Mbyte pages, larger on-chip caches, second level cache support, faster buses, and hardware support for bus snooping, for cache consistency in multiprocessor systems. A process shrink for the XP (from 1 micrometre to 0.8) bumped it to 40 and 50 MHz. Both CPUs supported the same instruction set for application programs.
Intel i860 XP 50 MHz
Kindly donated by Pauli Rautakorpi.
A80860XP-50
Specification Details
Show
80860 Support Chips
These came with the 80860XP.
VLSI VY06224-2
Sorry, but there is no specification for this IC at this time.