HARDWARECOP Store - The NerdClock
NerdClock - The Open Source RGB Binary Clock
...is a great to show the time in a mysterious way. And to those who don't know how to read that type of clock it's a simple, yet effective way to boost up your nerdiness level sky high. That might just be something you'd like to do?
Get started and build your own copy of the hardwarecop NerdClock or get a pre-assembled NerdClock. Check out the details below.

Available
Ships within 1-3 days (Germany), up to 2 weeks (international)1

NerdClock - Technical Features
24 hour binary coded decimal clock mode

100% Static 8-bit latched shift register driving, 100% no brightness loss

24x individually controllable and addressable 6x4 RGB LED matrix

Predefined RGB rainbow spectrum fade

R, G and B intensity manually adjustable using trimm potentiometers

Single 5V USB power supply
Exchangeable Atmel® AVR® Atmega328P-16PU Arduino® Uno microcontroller
NerdClock - Store Variants
NerdClock Circuit Board (PCB)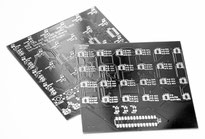 Get the original NerdClock PCB. This option is great if you already have most of the components required to build this clock lying around and just need a PCB that holds all the components together!
NerdClock Kit
Get the original NerdClock PCB as well as every component and the pre-programmed NerdClock Arduino firmware as a kit to see how well good your soldering skills are!
NerdClock Assembled
Get a manually preassembled NerdClock. I will solder every component precisely on PCB for you and extensively test the quality of every single pad and connection of over 500 before you receive it. Assembly and test can take up to three workdays.
NerdClock Acrylic Case
Get a CAD designed, laser cut acrylic case for the NerdClock. You will receive fragments as shown as you might modify NerdClock additionally. Insert the NerdClock PCB and seal the case with acrylic glue.
NerdClock Assembly Checker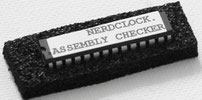 Check if you've wired and soldered every single LED correctly. Assembly checker will automatically take your NerdClock trough a testing routine and you will see if anything is not-so-correct!

NerdClock - Service Area
You will receive a printed copy of the English NerdClock user manual and an English assembly manual if you purchase NerdClock as a kit or the PCB. These can also be downloaded here:
NerdClock Assembly Manual English
AssemblyInstruction_EN_1_0_1.pdf
Adobe Acrobat Document
1.1 MB

Share this page to your friends: